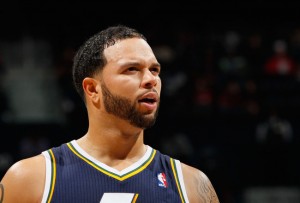 A wise man once said "dealing in hypotheticals is a fool's errand."  (Okay, I actually just made that up, but doesn't that sound like something a wise man would say?)  Regardless, I'm preparing to embark on a hypothetical journey exploring the most likely outcomes for the Utah Jazz had the front office not shipped Deron Williams out of town on February 23, 2011.
As of Williams' last game with Utah, the Jazz held a 31-26 record and were in the midst of a slump, losing 7 of their past 9.  Had Deron not been jettisoned, I have to believe they would've stopped the skid eventually.  I know this is assuming a lot, but hey, this is a hypothetical situation; assumptions have to be made.  Utah had a number of close losses post-Deron, and a player of his caliber would most likely have been good for an extra 3-5 points, turning several of those losses into wins.  In this hypothetical scenario, Utah rights the ship, sneaks into the playoffs in the 8th seed and gets swept by the San Antonio Spurs.
Logic dictates that the Jazz front office would've looked into dealing Williams that offseason as well, as Deron had a player option for the following season and could bolt Utah for greener pastures, leaving the Jazz without compensation.  However, this scenario assumes Deron was never traded and played out the remainder of his contract.
While no Deron trade would mean no 2010-11 meltdown, it would also mean Derrick Favors, Devin Harris, Enes Kanter and Alec Burks would've never joined the team.  Utah would've been selecting in the late teens to early 20's of the draft, and would've likely been looking to acquire either a young point guard as an insurance policy if Deron left or a small forward.  Notable players who would've fit the bill in that range would've been Tobias Harris, Nolan Smith, Reggie Jackson, Norris Cole, Cory Joseph and Jimmy Butler.
In the 2011 offseason, Williams would've undoubtedly pushed for the Jazz to sign a big-name free agent for him to play alongside.  Unfortunately for Williams, a big name was not available via unrestricted free agency in 2011, at least that wasn't at a position of need for Utah (i.e. Nene) or an over-the-hill star who would not fit in well in Utah (i.e. Vince Carter and Tracy McGrady.)  The Jazz would've likely spent their money on minor pieces that fit well with the Jazz, causing Williams to throw another basketball or two at Gordon Hayward's head.
The following season (Deron's last with the Jazz) would likely have been very similar to the last season, with Utah putting up a respectable but not overwhelming number of wins, grabbing a 7th or 8th seed, and bowing out in the first round of the playoffs, after which Deron would've opted out of his contract.
And let's be realistic, he wouldn't have re-signed.
So where would that have left us for last season?  Utah would be without Deron Williams, without Enes Kanter, without Derrick Favors, without Alec Burks and likely with someone like Nolan Smith or Tobias Harris in their place.  Yes, the rebuilding process would've began much sooner, which numerous Jazz fans think it should have, but Utah would have been light years behind where they are now in terms of acquiring assets.  A team with that dearth of talent would almost undoubtedly earn a relatively high lottery pick in a 2013 draft that was widely known to be fairly weak at the top.  Even adding an Alex Len, a Ben McLemore or a Nerlens Noel to the Jazz roster still leaves them far behind where they are now.
No, I don't expect the Jazz to win more games than they lose in the 2013-14 season, but this retrospective look at the Deron Williams trade makes me appreciate it all over again.  Something Utah's front office did 2 ½ years ago is still paying dividends, and will continue to become an even better value trade for the Jazz if Burke develops into the point guard Utah's front office believes he is capable of being.
It was a shock and a downer to many fans when Williams was dealt.  In hindsight, Jazz fans should probably give thanks the Jazz powers-that-be had the foresight to get significant value in return for their mercurial star who was unlikely to stay for long.