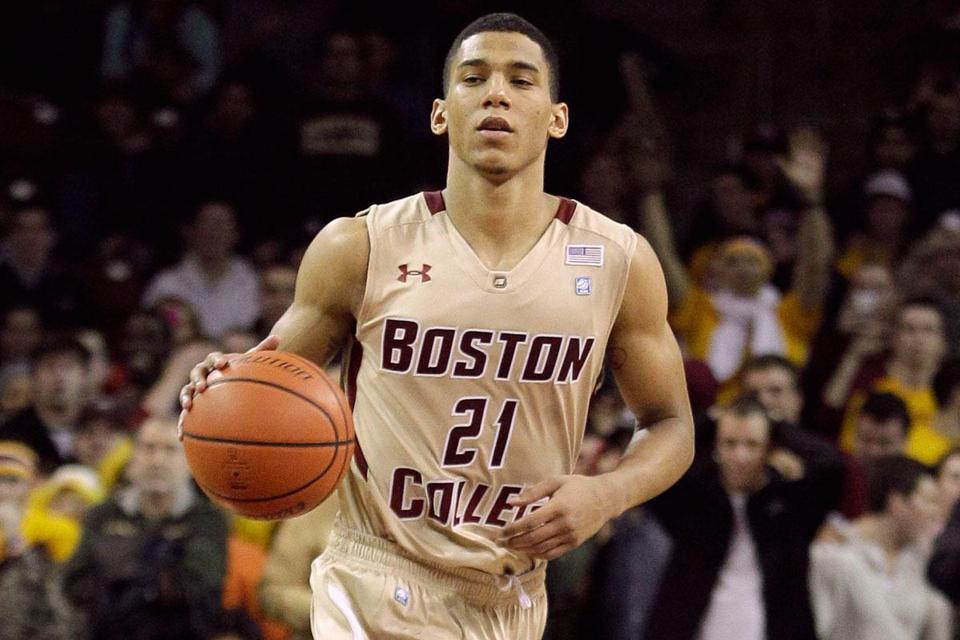 As the buzz around the Barclays Center last Thursday diminished, and the angry Knicks left the arena, the Jazz made their impact in the 2nd round by taking Boston College stud Olivier Hanlan with the 42nd pick. During his junior season, Hanlan averaged 19.5 points and 4.2 assists per game, on 45% from the field and 35% from beyond the arc, in 37 minutes per game. That excellent play allowed Hanlan to be named to the First Team All-ACC and an AP All-American honorable mentioned during his junior season.
Standing 6'4" with a 6'6" wingspan, Hanlan falls into that weird "combo guard" category. That distinction could be the main reason as to why Hanlan's status as an NBA prospect remained uncertain. Because as we're about to find out, Hanlan has the score-first mentality of a shooting guard while maintaining an innate facilitating ability. That cross-stream of skills allowed Hanlan to switch off from working as the team's main facilitator to playing as an off-ball guard.
As a scorer, Hanlan displayed a plethora of abilities, including cutting both on and off-ball, shooting off-the-dribble, and working through catch-and-shoots. While all of those tools are in his repertoire, Hanlan usually needs an on-ball screener before he's able to work. Per Synergy Sports, 26% of his offensive possessions came through the pick-and-roll.
What that utilization limits his potential to break down his opponent through ISO's, Hanlan looks very comfortable when he's working alongside that screener. Following that screen, Hanlan does a great job of quickly reading the defense and deciding whether to dish it off to the roll man or cutting to the basket. As an on-ball cutter, Hanlan seems to strictly likes going right, which he does a great job at. Even though he's not the most explosive guard in the world, Hanlan does a great job of getting to the rim once he works around that on-ball screen. Hanlan does a nice job of changing speeds while in the process of cutting, which you can see from the following clip.

While he's great going right, Hanlan still has problems cutting with left, as he's not that proficient at using his off-hand. Although he can cut left when he has an open lane, Hanlan basically stops when he's met by a solid on-ball defender. Despite those struggles, Hanlan was really solid from around the rim. Per Hoop-Math, Hanlan averaged 62% from inside the restricted area.
Outside of the paint, Hanlan was able to maintain that consistency. With a quick shooting stroke that ends with a high release, Hanlan is either able to shoot off the dribble or through straight catch and shoot situations. In catch and shoots, Hanlan shot 39%, according to Synergy Sports. Why Hanlan's work through catch and shoots is so important is that he won't be working as Utah's main offensive weapon, which was the situation he was in at Boston College.
Although he won't be working as Utah's main offensive weapon, Hanlan could be looked at to facilitate the team's 2nd unit. Hanlan's assist numbers may not be too appealing (4.5 assists per 40 minutes), but he has all the tools of being a solid facilitator. He's an unselfish player, that makes the right pass and quickly recognizes when a teammate is open. Hanlan has exhibited an ability to drive towards the paint and kick it out an open teammate,
The biggest question surrounding Hanlan's transition to the NBA and the Utah Jazz would be his work on the defensive end. During his time with Boston College, Hanlan was a great defender, as he was able to stick onto his opponent like velcro. Even though he isn't the quickest player in the world, Hanlan shows an innate ability to both work over and under the off-ball screen.
However as he makes that transition to the NBA, there's fear that he won't be able to handle NBA guards due to his lack of athleticism and small 6'6 wingspan. While that concern could still definitely be valid, the focus and high level of energy that he uses on that end should allow Hanlan to at least be an average NBA defender.
With the addition of Hanlan to the Jazz, the team has four point guards (Burke, Exum, Cotton and Hanlan). However, a lot of that could change as the Jazz futures of both Burke and Cotton remain in question. Since before the Draft, Trey Burke has been involved in a variety of trade rumors, as the team looks willing to deal him. Meanwhile, Bryce Cotton's contract is unguaranteed, which means that the Jazz could release him if Hanlan performs during Summer League.
Although Hanlan won't be dropping any eye-popping dunks or anything that would put him on SportsCenter, the Boston College alum definitely has the tools to be an impact player on Utah's second unit.