I don't think I've ever been as excited for a draft as I was this one, and I know I've never been as pleased with the results of a draft as this one (I was in diapers when Stockton was drafted, though maybe I booed him even then, along with the rest of the Jazz fans—I'm not quite sure).
Here's why June 27, 2013 thrilled me as a Jazz fan:
1. Ownership is serious about building (read: funding) a championship-caliber team,
2. Management is strategic, thorough, and capable of building a championship-caliber team.
Ownership is serious about building (read: funding) a championship-caliber team.
For years, some Jazz fans—and I include myself here—have been disappointed at a seemingly risk-averse mentality, and Thursday night's draft moves are going a long way to alleviate those concerns, at least for me. I don't even necessarily need to see the Jazz make a big splash in the free-agent market to continue to believe that ownership and management are firmly fulfilling their championship plan; there aren't enough top-tier free agents, or game-changing free agents, to make me think the Jazz HAVE to make a splash. I just want to continue to see smart, effective, efficient moves.
And this draft did exactly that. In order to land Gobert using one of Denver's picks near the end of the first round, the Jazz traded their 46th pick and cash. Locke's point that the Jazz had to essentially write a $3 million check on the spot is a very telling one—that's not an insignificant decision or investment to make. Another point that really struck me: the signing of Dennis Lindsey nearly a year ago, the additional scouting, all the players brought in for workouts, the free agent mini-camp, all cost money.
It looks like Gail and Greg Miller have adopted a mentality described in Larry H. Miller's biography, "Driven," where Frank Layden said of Larry H. Miller: "If you wanted to do something—whether it was buy equipment or stay in camp longer or whatever—he didn't necessarily want to spend money, but he would always ask: 'Will it help us win?' If we said yes, he'd say, 'Then go ahead.' Never once did I hear him say, 'No, you can't do that.' I used to take the team to New York two days ahead of the game to give us a chance to recover from jet lag. I told him why and he said, 'Okay.' You can't have a better owner than that."
I've heard a lot of complaints about Greg Miller over the last few years, but I've never quite understood them. I think we've now had enough examples where we're seeing that Greg (and Gail, I'm sure, too), are just as willing as LHM was to pay for the people, scouting, camps, etc. that will help build a contender. They should be given serious props for that.
Also, Greg posted this picture on Twitter and I will forever love him for it.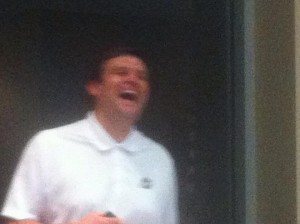 Management is strategic, thorough, and capable of building a championship-caliber team.
When Dennis Lindsey said they were going to be "very aggressive" in the draft, I have to admit that I rolled my eyes. Hearing the standard line of "we're listening to all offers, and if it improves our team, we'll consider it" for so many years made me weary. But Dennis Lindsey does things differently, and he doesn't disappoint. With his wizardry, he addressed two glaring needs:
Point guard. Without a single point guard under contract for the 2013-2014 season, Dennis Lindsey and Kevin O'Connor worked magic when they saw Trey Burke falling. Moving picks 14 and 21 to pick up the player whom many called the best point guard in the draft, one major hole was filled. By sending a future second-round pick (one shrewdly picked up by KOC in the Memo Okur trade) to Atlanta, the Jazz were able to select another point guard in Raul Neto, a player on Dennis Lindsey's radar for a while.
Defense. We've been hearing about defense for decades, but we've had defenders like Boozer, Okur, Mo and Al. Now, thanks to some patience mixed with assertiveness, we've got Gobert, a true 7-footer in with the longest reach recorded in combine history (7'9''), to pair with our other defensive bigs in Favors and Kanter. Defense should become a much stronger point for the Jazz, which is essential considering they've ranked in the 20's the last two years.
Additionally, these draft moves were very, very smart. The Jazz were able to get the players they wanted without giving up a player, like Burks, or a future asset. If you look back to Dan Clayton's great post on the Cost of Moving Into the Top 10, Dennis Lindsey was able to do exactly what he shouldn't have been able to do, based on historical data.
This is the first full event where Dennis Lindsey's fingerprints are all over it, and I think the signs are very, very good. If you look at the number of players who came in for workouts—nearly 70—and you consider the increased scouting that took place, and then look at the result on draft day, I think you have to be excited about the future—including free-agent craziness just around the corner. This organization is in great hands.
I think we'll start to see more fruits of Dennis Lindsey's work through free agency in the next year or two. The free-agent mini-camp—something the Spurs used to do, and their track record with uncovering hidden talent is fabulous—combined with international scouting, should help round out the roster with players that might surprise us.
I know Dennis Lindsey has. And that's a good thing.