While the Golden State Warriors and ex-golden boy Kevin Durant are the NBA flavor of the day, front office personnel, journalists, and other pundits who need a palate cleanse are drinking deep from the Utah Jazz cup.
If anyone has the credentials to sum up an industry's sentiments, it's ESPN Senior Writer Zach Lowe, who says of the Jazz, "You want a team young, big and confident enough to see Golden State as a proving grounds instead of some invincible boss? This is it… Seriously, predicting 50 wins for the Jazz is not bold."
All but the most skeptical of Jazz fans are giddy at the host of factors seemingly colluding for a glorious coming season. A major injection of veteran experience, positional flexibility, shooting, and depth by trading for guard George Hill and renaissance big man Boris Diaw while signing former All-Star Joe Johnson as a free agent at the wing. Karmic optimism of a season without the litany of injuries that befell nearly every position last season. Quin Snyder entering his third year as head coach, and thus ready to make a personal leap along with his team.
For the first time in a long time, expecting great things – not some day but now – is appropriate in Jazzland. Even Snyder and General Manager Dennis Lindsey1 have given up trying to temper expectations, choosing instead to put the focus on how they plan to meet at least the reasonable expectations.
One of those expectations, not yet frequently articulated but certainly assumed, is that Utah's All-Star drought may be coming to an end. If the Jazz win in the neighborhood of 50 games and challenge for home court in the playoffs, it would be harder to imagine the team receiving no All-Star recognition than finally sending a representative to the league's supreme talent showcase.
Savor the term: ALL-STAR!!! Players of such a status are larger the life, a breed above and beyond anything Jazz fans have called their own for far too many years.
Or not.
No two All-Stars are the same, and no two systems build All-Stars in the same way. Assuming Russell Westbrook remains in Oklahoma City next season, for example, he'll almost certainly attend his sixth All-Star Game in seven seasons due to stats only achievable in video games with cheat codes. Kevin Durant, in contrast, may make his 7th appearance despite scoring fewer points than at any time since his rookie season, a sacrifice that likely comes with playing on possibly the most talented team of all time.
What would a Jazz All-Star actually look like? How much better would Gordon Hayward, Derrick Favors, or Rudy Gobert – the team's most likely three candidates – have to perform make the cut?
If the Jazz do earn an All-Star next season, he will be a product of Quin Snyder's system. Thus, looking at teams in recent years most like the current Jazz roster and system may give a general profile of what fans might expect to see in an All-Star season from one of their players.
The recent teams that employ systems most similar to Snyder's motion offense are, unsurprisingly, all part of the same Spurs tree from which Snyder himself branches off: the Atlanta Hawks from 2013-2015 seasons under Mike Budenholzer2 and the trunk of the tree itself, the 2010-2014 Spurs3. Each of those teams boast All-Star players, and looking at these players sheds fascinating light on the Jazz's top talents.
Consider the All-Star seasons produced by Tony Parker (3x), Jeff Teague, and Manu Ginobili in comparison to Gordon Hayward's production in his two seasons under Quin Snyder:

All in all, Hayward's two-year production isn't far off these Spurs and Hawks All-Stars. He has actually scored more than their average, ironically, while also posting superior rebounding and comparable or better steals and blocks. His average personal efficiency rating is slightly below this population of players because of his lower assists and lesser shooting efficiency.
The biggest difference between Hayward the past two seasons and these All-Stars is glaringly obvious: win percentage. In the seasons they were named All-Stars, Parker, Teague, and Ginobili averaged winning 74-percent of their games, an obscenely high rate indicative of league-leading records most seasons.
If Hayward had produced the same numbers he has over the past two seasons on a team that won 74-percent of its games, would he have been an All-Star already? Probably.
The same applies to Derrick Favors in comparison to Tim Duncan (3x), Paul Millsap (3x), and Al Horford (2x), only more so: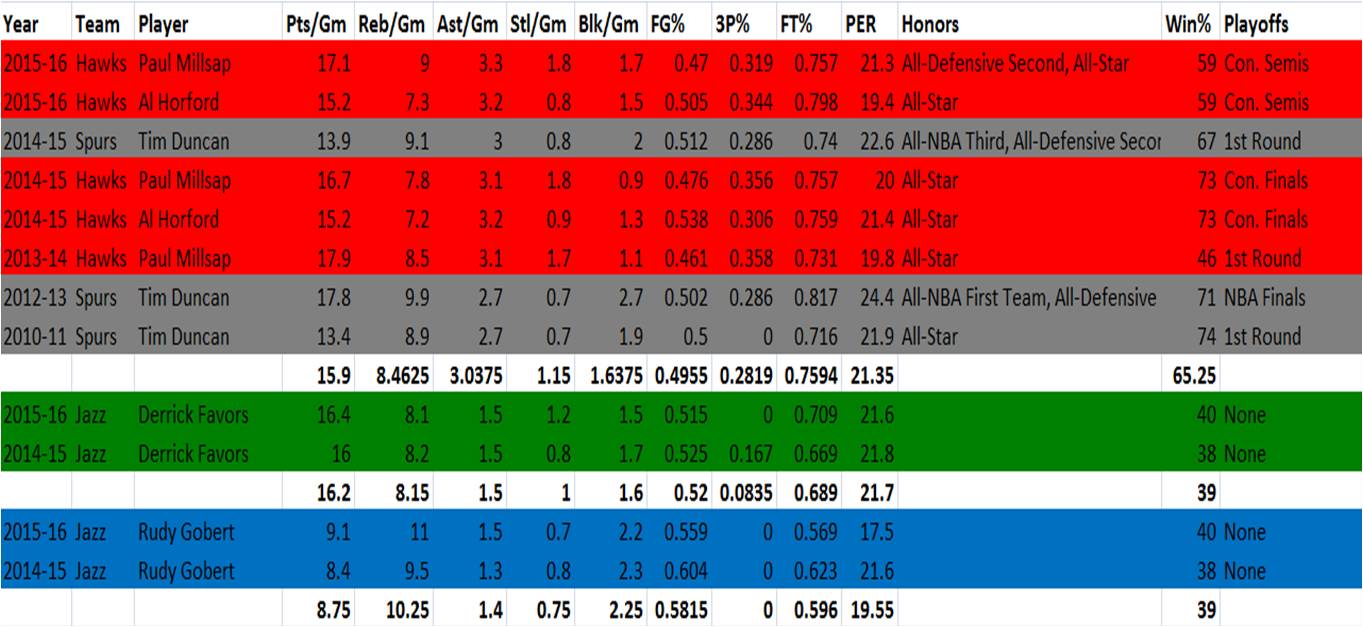 While Favors lags behind these comparables in assists and bests them in field goal percentage, his numbers otherwise are nearly identical to the population average in terms of points, rebounds, steals, blocks, and personal efficiency rating4. Take away player names, and it wouldn't be hard to slot Favors into many of these statistical seasons and find a reasonable fit.
Except for wining percentage, of course. Again, this stable of players grossly outperform the Jazz's duo on that front.
So in this season where so much is expected of the Jazz as a team, what should be expected of a possible Jazz All-Star?
Put bluntly, not much more than we've seen the past few seasons, at least in terms of statistical production. Without as great a burden to always carry the offense, Hayward will likely improve his efficiency, but that would likely entail fewer overall points. Favors might tick up his offensive production yet again, but he's unlikely to make a rebounding or shot blocking jump with Gobert on the roster.
Hopes for Hayward to emerge as a top ten scorer in the league, or for Favors to become a twenty and ten guy, well, that won't happen. And that's the point: in Snyder's system, it isn't supposed to happen and doesn't need to. The Jazz system is designed to use multiple parts to greater effect than the sum of the pieces. His first two seasons, they simply lacked enough quality pieces.
That has changed this season. So while the Jazz's best players should create typical production, the recognition of that production will be greater than ever before – and just may include the title All-Star.