In the midst of an unpromising lockout, Jazz fans everywhere can only wait and wish about the future of the young team they cheer for. As hard as I try to force myself to become some die hard women's soccer fan or an MLB junkie, I mostly just spend time letting my mind wander into some Jazz-related fantasy world. With this article, I cordially invite you to join me to part two of my latest dream land, namely where would current Jazz players be if there was no NBA?
C.J. Miles would make a nice first basemen in the MLB. He would be a nice big target for infielders to throw at the bag and could be a strong cleanup hitter in the lineup. MLB teams love power left-handed hitters, and with Miles' ability to use both hands on the court, I imagine that would translate nicely into teeing off on a hanging curve out over the plate. Also, Miles could be one of few power hitters that could actually run the bases. Such a luxury in the MLB is like having a big man that can shoot free throws in the NBA. Derek Lee has been one of baseball's best first basemen over the past decade. He stands 6'5 and weighs 235. Sounds like it could be right up C.J.'s alley.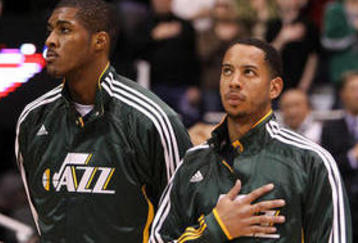 Devin Harris would be an electric kick and punt returner in the NFL. We all know he's very fast, but Harris' ability to get to the rim in transition requires more than just speed. Harris finds gaps very well and uses his quickness to burst right through them, a skill that separates the men from the boys in the world of kick returning . After all, all kick return men in the league are fast, but not all of them know how to use their quickness to break free for the distance. Had Devin Harris opted for a different sport, perhaps he would have beaten Dante Hall to one of the coolest nick names in sports; the human joystick.
Ronnie Price's athleticism would make him a really good center fielder. Price is a risk taker on the basketball court, which would make for some nice web gems for Price on baseball tonight. Price would thrive on diving catches, scaling walls to try to rob home runs, and gunning guys down at the plate. I have no idea how Ronnie would do at the plate, but if he could find his way to first base, he would be a dangerous base runner. Curtis Granderson is a guy that comes to mind for Ronnie Price, and we all know how that investment is paying off for the Yankees.
This is an easy one, but Enes Kanter would be (and likely one day will be) a WWE superstar.  Enes Kanter has a very fun personality, one that is made for the entertainment industry. Enes (does not rhyme with Venus, rather with Dennis) was all smiles on draft night and his interviews nearly stole the show. The excitement had hardly worn off the next day when Kanter said he "wishes he could get drafted everyday". When asked by David Locke what he will bring to the Utah Jazz, Enes replied; "I like to play toughness." His fondness of 'playing toughness' is exactly what it takes to win a 16 man battle royal. With his fun personality, politeness, and great charisma, there's no surprise that the people in Kentucky loved him last year in spite of the fact that he never even played. Imagine the fan base the UnderKanter will have when he's on Monday night Nitro every week!
Mehmet Okur's soft touch from just about anywhere on the court would make him a world class curler. Have you ever noticed how softly those guys release the stones from their hands as their fellas begin escorting it down the ice? Memo's shooting touch would translate nicely into a great curler. Besides, I'm sure Turkey's on the market for some new curlers.
Finally, Jeremy Evans would be an incredible volleyball player. I can't even imagine what it would be like trying to meet this guy at the net. Not only does Evans get up, but he elevates faster than anybody I have ever seen. Having an outsider hitter like Evans would be a setter's dream; just lob the ball out wide, make sure it's high enough, and let Evans do the rest. I'm not sure what the record for kills and/or blocks are in a single volleyball game, but I'd have to think Evans would break it.
Thanks for joining me on this trip to fantasy land as we suffer through a miserable lockout. I never realized how much I like the NFL until a new CBA was reached and I started getting excited about football again. I hope this has the same effect on Jazz nation, that when a new CBA is agreed upon (which hopefully happens in reasonable time), we come back stronger and prouder than ever.
Follow Nick on Twitter!