In the midst of an unpromising lockout, Jazz fans everywhere can only wait and wish about the future of the young team they cheer for. As hard as I try to force myself to become some die hard women's soccer fan or an MLB junkie, I mostly just spend time letting my mind wander into some Jazz-related fantasy world. With this article, I cordially invite you to join me to my latest dream land, namely where would current Jazz players be if there was no NBA?
With his size, speed, and footwork, Al Jefferson would be a starting defensive tackle in the NFL. Big Al doesn't strike me as a guy that struggles to add pounds to his frame, hence the nickname Big Al. With an extra 20 pounds of meat on his bones, I see Al Jefferson as Richard Seymour 2.0.
Paul Millsap would make a fine tight end in the NFL. His physicality and toughness suggests he would be an excellent blocking tight end, and his soft hands leave no doubt that he could make plays down field. Kevin Boss, one of the league's best young tight ends, is 6'6, 250 pounds. That sounds familiar.
If Fransisco Elson wasn't an NBA basketball player, I would see no better career path for him than as an MMA fighter. He's big, probably has a mean roundhouse kick, and he's got some crazy eyes. The Sisco Kid takes no prisoners on the court, a quality of his I see translating very well into the steel cage.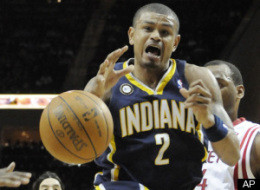 Earl Watson would be a great boxer. He's got some of the quickest hands around, is extremely feisty, and I've yet to see Earl get intimidated by anyone, anywhere. Growing up on the streets of Kansas City, I imagine Earl has seen his share of brawls. With some time to train and dial-in a nice right hook, a Watson vs. Pacquiao match could be worth the always lofty priced Pay-Per-View.
Gordon Hayward would be a great quarterback in the NFL. I know he played tennis in high school and is supposed to have been really good, but Hayward's ability to see the floor, make good reads, and carry a team on his back could have made him the next Tom Brady. Perhaps Hayward would have opted for such had he have known Giselle would be waiting for him after every game at the 50-yard line.
Finally, with Kyrylo Fesenko's time as a Jazz man most likely on the clock, I feel as though writing a post as worthless as this without mentioning his name would be a failure. I think it's obvious and goes without saying that if Fes weren't a basketball player he would be dominating the tables of Texas Hold 'Em. After all, have you ever encountered a more unpredictable person on this planet than Big Fes? Nobody could call his bluff! I'm no poker expert, but looking across the green felt table at a 7'1 Ukrainian with a huge grin on his face would make me fold like origami.
My apologies to all if this post did nothing more than remind you of how starved we already are for NBA happenings. Take solace in the fact that this lockout won't last forever. Hayward running the pick n roll with Favors will be back in no time, that is if he doesn't read this post and change his mind in favor of the NFL of course.