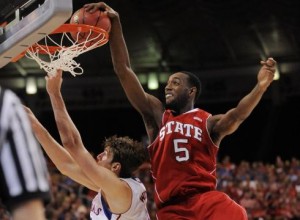 The dichotomy between the paths of first-round NBA draft picks and second-round choices is a stark one.  First rounders parade across the stage of New York, exchange awkward hugs with David Stern and instantly become the darlings of their new team.  Conversely, choices in the 2nd round are mere footnotes in NBA history, are guaranteed nothing and have to ward off the starving D-Leaguers and undrafted free agents who are all gunning for the last spot or two on the roster.
While the glitz and glamour of being an early selection in the NBA draft is nowhere to be found from pick 31 on, the 2nd round can prove to be a veritable treasure trove of raw materials primed to be molded into valuable rotation players or even into potential All-Stars.  Hitting pay dirt on a 2nd-round afterthought has the potential to fast-forward the rebuilding process or to vault a playoff team into conference contention.
Obviously, there's no magic divining rod to lead the Jazz to this year's Paul Millsap or Manu Ginobili.  However, there are certain indicators that help highlight potential 2nd-round breakthroughs.
How Fixable is the Flaw?
Obviously, every player slated to go in the 2nd round has his fair share of flaws and weaknesses, most of them significant enough to cast severe doubt on whether or not each respective prospect will ever play meaningful minutes in the league.  If these flaws can be overcome, either through coaching, hard work or discipline, the player's ceiling rockets upward.
Do the Strengths Significantly Outweigh the Weaknesses?
Though he was a 1st-round pick, let's examine Steve Nash as an example.  Nash earned multiple league MVPs and All-Star appearances despite being a sieve on defense.  Despite the large deficiency, Nash achieved superstardom by virtue of his stellar shooting and pure point guard skills.  If the 2nd-round prospect in question has one or two dominant skills, it could more than compensate for any weaknesses that shoved him down draft boards.
Using these indicators, four 2013 prospects projected to go in the 2nd round stand out:
C.J. Leslie
Leslie's explosive athleticism and penchant for rim-rattling dunks make him one of the more intriguing 2nd-round prospects.  He combined his athleticism and impressive length well at N.C. State and was a very disruptive defensive presence.  His impressive 7.4 rebounds-per-game average makes Leslie and even more tantalizing prospect.
Leslie's primary flaws revolve around an inconsistent motor and proclivity to disappear at times during his time with the Wolfpack.  His negative attitude and body language are major turn-offs to scouts, and explain his 2nd-round grade. If surrounded by the right type of coach and strong veteran teammates, Leslie could be a tremendous 2nd-round value if he decides to start caring.
Carrick Felix
Don't believe the rumors that Felix's inclusion was a homer pick due to his attending a college in Idaho prior to transferring to Arizona State; Felix cracks the list for multiple reasons.  Felix is an athletic hustle player capable of defending both wing positions.  His offensive game is unrefined, if not nonexistent, which is the reason for Felix not being a more highly touted prospect.
The primary indicator that Felix has the potential to develop into a solid NBA player is his track record; namely, the improvements he made each year in college.  With a tenacious player like Felix who is already accustomed to playing hard every night, he could get by in the NBA strictly because of his impressive rebounding and defensive skills.  If Felix finds himself in the right system with an offensive-minded coach who can help him develop a more in-depth offensive skill set, he could drastically outplay his draft position.
Archie Goodwin
It's pretty clear Archie Goodwin made a mistake declaring for the 2013 NBA draft.  There's a puncher's chance that whichever team takes a gamble on Goodwin will profit from his poor decision.
Goodwin is raw as they come.  His explosive athleticism, a calling card of Kentucky Wildcat basketball, seems to be an indicator of the massive potential Goodwin has.  Goodwin doesn't seem to understand quite how to put all the pieces together yet and how to properly utilize his athleticism.  If a team has the patience to deal with Goodwin's growing pains and the right coach to help him develop, then Goodwin could be one of the best second round draft picks since Ginobili.
Peyton Siva
Peyton Siva is quite possibly the hardest sell of all four players. His diminutive stature is one weakness that cannot be corrected.    Siva, who will turn 23 in October, is one of the older players in this draft, which is another factor that cannot be "corrected" that may cause some teams to shy away.
Siva was included on this list because of his unique combination of facilitation skills, explosive athleticism and leadership intangibles.  A national champion in his senior season at Louisville, Siva was known for his contagious attitude and perpetually playing with emotion.  Siva will have to improve his substandard shooting for his success to translate to the NBA, but such an improvement is certainly not out of the question for a player who takes as much pride in his game as Siva does.